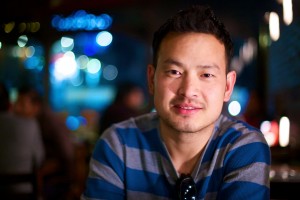 BRITISH/ NEPALESE FILMMAKER | DIRECTOR | STORYTELLER 
Born and raised in Nepal, Veemsen Lama is no ordinary umpteenth London-based filmmaker. From a very young age, Veemsen developed a passion for storytelling, and so at the dawn of his adult life, he promised himself to do all it would take to make his dreams come true. That notably meant enrolling in the British Armed Forces, which he served for several years. Once he had taken and passed all of the rough tests to become a Gurkha, Veemsen finally set foot in England.
Determined to tell the world the stories he had and would stumble upon, he first started learning about filmmaking through books and YouTube tutorials while still in the army. Sometime around 2012, there was a redundancy process and Veemsen's name was on the list. 'What next?' probably was the question that popped in at that time, and applying for university seemed to be the obvious answer…
In September 2013, Veemsen thus started studying Digital Film Production at Ravensbourne in London. Now a fresh graduate, the young filmmaker is working freelance, doing camera operator jobs, music videos, wedding videography and photography, and so on and so forth. When it comes to his films more specifically, Veemsen Lama is eager for stories about love and hope, which he wishes can inspire others whose life is being dark and cruel. He's therefore engaging with the drama, romance, but also horror and action genres a lot.
After the success of his graduation short film, MAYA, which was nominated and awarded at numerous festivals around the world (including Raindance; BKSTS, where it won "Student Best Film of the year 2015"; London Short Film Festival; Berlinale; Screentest Student Film Festival, where it was nominated for "Best Drama"; London Independent Film Festival, where it won "Best International Short Film"; One World Media Awards, where the film's been long-listed; Valletta Film Festival, where MAYA is up for the "Triton Award"; and most recently L.A. Cinefest), Veemsen Lama has recently been nominated for 'Best Director' at the 2016 Ouchy Film Awards, and he and his crew have just come back from Mustang (Nepal), where they shot the film director's upcoming short, Chyanti.
Now at the head of his own independent film production company, namely Javiya Films, Veemsen is prepping for his debut feature, with his closest collaborator and producer, Tom Cullingham, at his side.
A few words from some of his collaborators…
 "I've worked with Veemsen before on a few small projects but MAYA was the first project I've produced. He's so passionate about storytelling and is really ambitious and determined. It's easy to see that he has a clear vision when working with him and It's easy to trust him completely with whatever he wants to do."
"Working with Veemsen was incredibly rewarding, he is such a passionate storyteller and filmmaker. (…) He really likes to get emotionally involved in the story and he is an incredibly visual director."
Arran Green, Director of Photography
FESTIVAL AWARDS:
– London Independent Film Festival 2016 -"Best International Short Film" – WINNER
– Bradford Widescreen Weekend 2015 "BKSTS Student Film Of The Year" – WINNER
– El Dorado International Film Festival 2016 "Best Foreign Film" – WINNER
– London Short Film Festival 2016 – "Best Student Film" – NOMINEE
– Valletta International Film Festival 2016 – "Triton Award" – NOMINEE
– One World Media Awards 2016 – Best Student Film" – NOMINEE
– Ouchy Film Awards, Switzerland 2016 – "Best Director" – NOMINEE
– Screentest Student Film Festival 2016 – "Best Drama" – NOMINEE
– Long Beach Indie, L.A – "Best Documentary Short" – NOMINEE
OFFICIAL SELECTIONS:
– Raindance Film Festival 2015
– Encounters Short Film Festival 2016
– Berlinale European Talent Screening 2016
– Wairoa Maori Film Festival New Zealand 2016
– Cine Fest Los Angeles Film Festival 2016
– Ouchy Film Awards Switzerland 2016
– Cyprus International Film Festival 2016
– Los Angeles Lift-Off Film Festival 2016
– Milan Online Film Festival 2016
– Short Sighted Cinema 2016
– Venice Film Week 2016
– Kortfilm.be 2016
REVIEWS:
***** "A stunning short film full of heart and optimism" – Shaquilla (Sothetheorygoes.com) *****
***** "A highly poetic film" – Mike Haberfeiner ([re] search my trash) *****
***** "Tender and tragic" – Andrew Buckner (A word of dreams) *****
***** "A visually stunning film" – Graham Blake (movie-blogger.com) *****
***** "Stimulates the mind and inspires the heart" – Kirk Fernwood (One film fan) *****
FILMOGRAPHY
| | | |
| --- | --- | --- |
| Chyanti (Short Film) | Story, Director | 2016 |
| Maya (Short Film) | Story, Director | 2015 |
| Apartment 41 (Short Film) | Story, Director, Producer | 2014 |
| A Picture Of Us (Short Film) | Story, Director | 2015 |
| The Message2 (Short Film) | Actor, Director | 2016 |
| The Message (Short Film) | Actor,Director,Writer | 2013 |
| Rupees 500 (Short Film) | Director, DOP | 2014 |
| Neema (Short Film) | Director, Writer | 2013 |
| The Wish (Short Film) | Writer, Director | 2013 |
| The Doll (Short Film) | Writer, Director, DOP | 2014 |
| A Graduate (Short Film) | Story, Director,Actor | 2014 |
MUSIC VIDEOS
| | | |
| --- | --- | --- |
| Mahashoos by Dhiraj Rai | Director | 2016 |
| Dui Akshar Ko Maya by Chewang Lama | Director/DOP | 2015 |
| Timro Naam by Chhewang Lama | Director | 2015 |
| Hridaya Vitra by Deepak Gurung | Director | 2013 |
| Timilai by Nimes Gurung | Director/DOP | 2013 |
| Kati Maya by Intake Beats | Director/DOP | 2013 |
DIRECTOR OF PHOTOGRAPHY (DOP)
| | | |
| --- | --- | --- |
| The Wire (Short Film) | DOP | 2013 |
| Chapter Two(Short Film) | DOP | 2015 |
| Ugly Duckling (Short Film) | DOP | 2013 |
| Breate (Short Film) | DOP | 2014 |
| Queen's Mile (Short Film) | Camera Operator | 2014 |